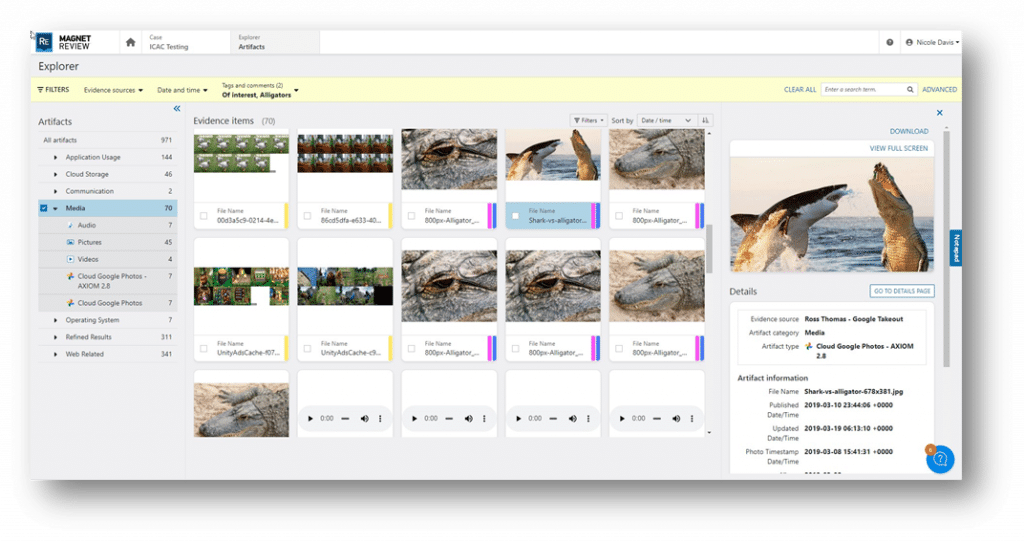 Magnet AXIOM 7.7 is now available! In this release, we have added several new and updated features to help streamline your workflows and help make your digital evidence analysis and reporting faster and easier, including:
Share and Collaborate on Evidence with Magnet REVIEW – Free Trial
Improved Magnet.AI Results for Video
To help keep your investigations current with the latest evidence sources, we have also updated and added to our artifact support. This release includes several updated iOS Device Information artifacts to provide device insights for your mobile investigations. The artifact additions and updates are listed below and detailed in the release notes for AXIOM 7.7.
You can upgrade to the latest version within AXIOM or at the Customer Portal. If you haven't tried AXIOM yet, request a free trial here.
Share and Collaborate on Evidence with Magnet REVIEW – Free Trial
Enabling timely and effective sharing of digital evidence is vital to keeping your investigations moving. As part of AXIOM 7.7, we're excited to announce an early access free trial of an upcoming new SaaS-based version of Magnet REVIEW for existing AXIOM customers!
With this new Magnet-managed SaaS option, you can share your cases directly from the Examine export dialogue, and your stakeholders review evidence using REVIEW's intuitive user interface and powerful search tools, collaborate using tags and comments, and generate and share detailed reports from any web browser, with no special hardware or software required.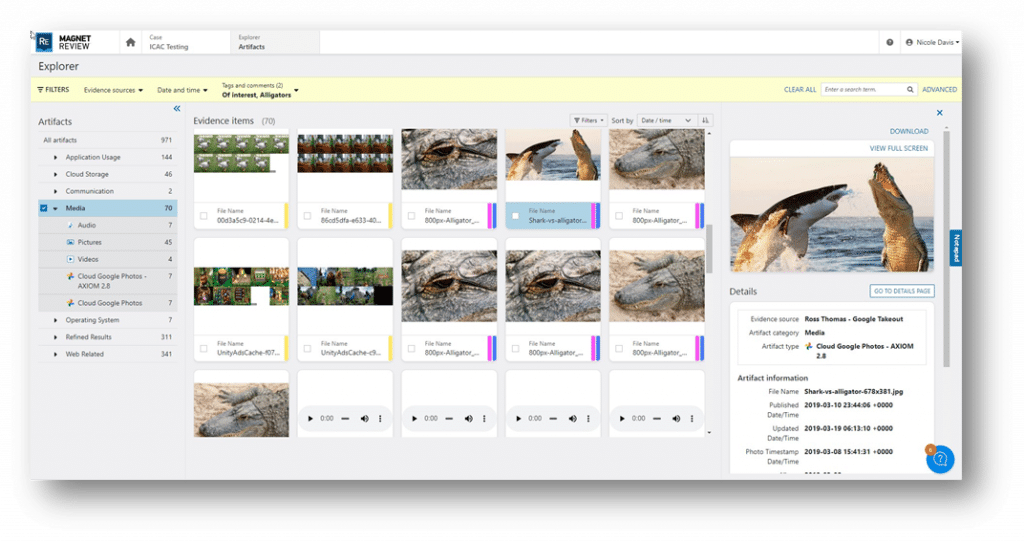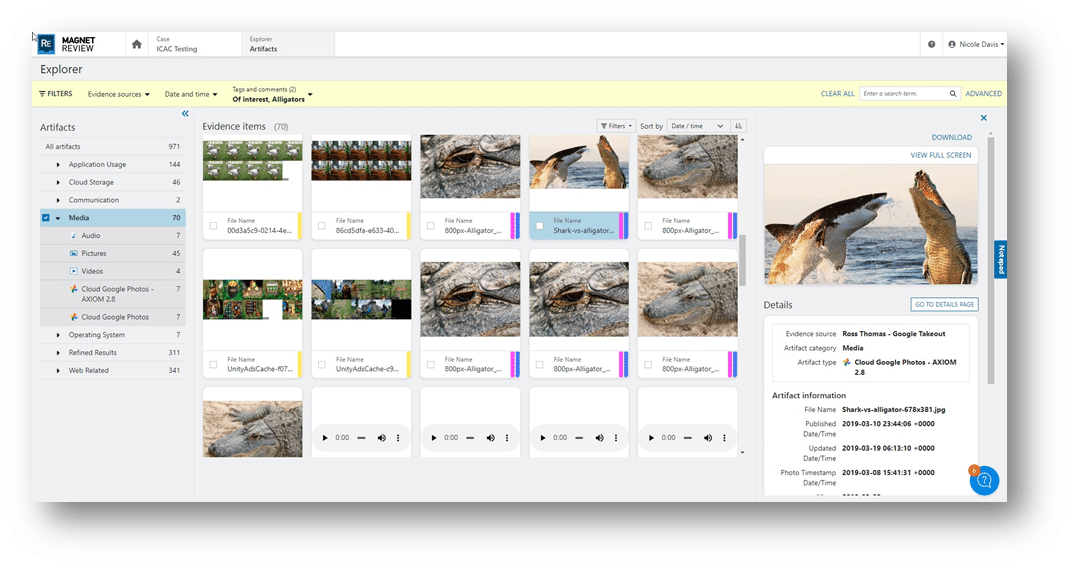 You can create your free trial account by visiting the Magnet REVIEW page or from within Examine by clicking on the upload flow from the dashboard.
For more details on the REVIEW early access free trial, check out our new blog.
Upcoming Webinar December 13th: What's New in Magnet REVIEW 5.3
Our latest version of REVIEW makes it even easier for you to bring your stakeholders and their evidence together, with a revamped user interface to help them quickly find the evidence that matters and a new delivery option designed to simplify deployment and management.
Join Magnet Forensics' Nicole Davis and Jonathan Evans for a walkthrough of the powerful new experiences in REVIEW 5.3, including cross-evidence views, updated evidence previews, and more!
Register for the webinar here.
Improved Magnet.AI Results for Video
The vast amount of media and data sources that need examining for criminal investigations can make searching for potential evidence a time-consuming task. Machine learning and image recognition tools can help to identify and categorize content of interest so examiners can more quickly uncover the key evidence needed for their cases.
In this release, we have significantly improved the accuracy of the Magnet.AI media classifiers for short videos, with the most notable improvements to videos under 2 minutes in length. Based on our internal testing, we improved the accuracy of detecting matches with the media classifiers by an average of 70%.
Magnet.AI is an artificial intelligence tool built into AXIOM that searches and flags potential content matches in the media in your cases. With 15 categories of classifiers in Magnet.AI (view the complete list of examples here – customer credentials required), this feature can have several applications but is especially useful for investigations involving CSAM, child abuse, drugs, or weapons, helping you quickly review content to uncover critical evidence needed for your cases.
New Magnet Idea Lab Beta – Magnet Exhibit Builder for AXIOM
We have recently introduced a new, free Beta version of MAGNET Exhibit Builder that is designed to be a companion platform to AXIOM. Exhibit Builder is a desktop reporting/building tool that helps you effectively tell the story of your digital forensic findings.
MAGNET Exhibit Builder combines forensic data from AXIOM case files with standard word processing tools, allowing you to build comprehensive reports for a range of audiences easily. The intuitive drag-and-drop functionality will enable you to place artifact details directly into your report, maintaining the integrity of the forensic data while integrating elements like visual previews for media-based artifacts and device summary details to provide stakeholders with clear and efficient reports.
To learn more about MAGNET Exhibit Builder, including a recent webinar replay, or to sign up for the Beta visit the Magnet Idea Lab and click "Apply Now" to fill out the application form.
New and Updated Artifacts
AXIOM 7.7 adds several artifacts updates that add to the iOS information that is available in AXIOM to ensure you have the device details needed in your mobile examinations. This release also includes an update to several other important iOS, Android, Windows, and macOS artifacts to help keep your investigations current with the latest apps and services developments:
New Artifacts
DJI Media (iOS and Android)
DJI User Information (Android)
Network Interfaces (iOS)
Private MAC Addresses (iOS)
Updated Artifacts
Device Information (iOS)
Edge Chromium Autofill (Windows)
Facebook Messenger Messages (iOS and Android)
Find My Items (macOS)
Google Chats (Takeout and Warrant Return)
ICQ 10 Messages (Windows)
Instagram Direct Messages (iOS and Android)
Message Preferences (iOS)
Signal (Android)
Snapchat Messages (Warrant Return)
Slack (Cloud Acquisition, Data Export)
Various Biome artifacts for iOS 17 (iOS)
WeChat (Android)
Get Magnet AXIOM 7.7 Today!
We continually improve AXIOM to make it our most comprehensive digital forensic platform. When every second counts, it's important that we do what we can to streamline the primary workflow of examiners. We're excited that these AXIOM improvements can help to do exactly this.
If you're already using AXIOM, download 7.7 at the Customer Portal. To try AXIOM for yourself, request a free trial today!
If your agency needs to perform remote collections, collect from cloud storage services, or Microsoft Office 365, check out what's new in AXIOM Cyber here.
The post Announcing Magnet AXIOM 7.7 appeared first on Magnet Forensics.