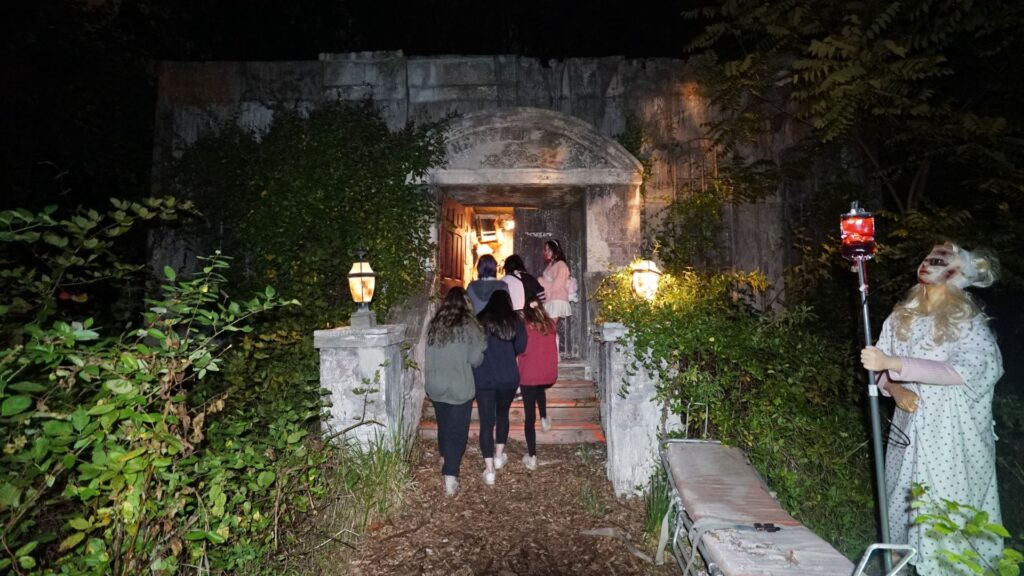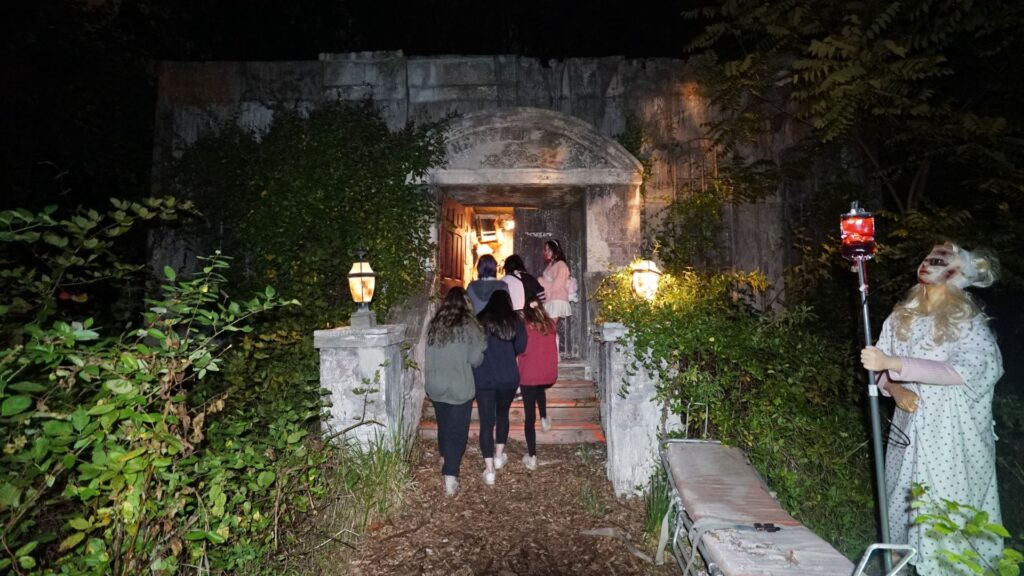 A cold, dark forest infested with raging spirits and nightmarish creatures awaits visitors at Field of Screams Maryland. Yet before you brave the Super Screams Haunted Trail or other haunted attractions, take a moment and consider previous visitors' tips and their helpful FAQs. You can avoid unpleasant surprises and unnecessary hiccups at the award-winning Halloween attractions by first reviewing procedures for ticketing, accessibility, weather protocols, and more.
The DMV's top-rated Halloween haunt, Field of Screams Maryland has expanded its offering this year! Their hour-long, terrifying haunted trail now boasts over 55 haunted stations with Hollywood-grade special effects. Your favorite monsters—Stitchy, Vile, Baghead, and more—are all BACK and stalking the compound and searching for their next victims. Get your tickets now and find answers to your questions by calling (888) 720-1112 or visiting their website today!
Below, we review visitors' most frequent questions as well as the Field of Screams Maryland team's responses:
The Basics: Essential Rules and Reminders
While they've supplied answers to the most frequently asked questions, it can only help to recap the crucial points here:
Ticketing and waiver policy: All Field of Screams Maryland tickets are sold and distributed online. They do not sell tickets on-site; you MUST purchase tickets before your visit and have them ready to scan upon arrival. One individual may also purchase tickets for others, but each is tied to a specific date and time slot. A ticket gives the holder access to the Slaughter Factory, bonfire area, and Super Screams Haunted Trail; anyone who wishes to play the Carnival Town Games must purchase access for them alongside their ticket. The bonfires are for everyone to enjoy.

You must complete the required waiver before arrival. Also, when purchasing your ticket, you will select a date and time for your visit. Date-and-time ticketing helps the Field of Screams Maryland team control the flow of foot traffic so all guests can enjoy their experience. Please arrive a bit early for your time slot; staff will let in guests as soon as possible. They also offer group tours of 15 to 2,000 people but require a reservation through [email protected].

Attractions set-up: Guests complete the Field of Screams Maryland tour in stages: the Slaughter Factory, Carnival Town Games area, and then the Super Screams Haunted Trail. The Carnival Town Games is an open space with concession stands, bonfires, and yard games. They encourage visitors to snack and catch their breath before starting the trail.

The Haunted Trail is an hour-plus continuous attraction with more than 55 "stations" on its route, depicting scenes and settings too horrifying to describe. Guests can expect zombies, killers, and other horrors as they walk through the dark forest setting. You will walk a dark trail, so wear comfortable shoes or boots and dress warm for the evening.

Poor weather and refund policies: While Field of Screams Maryland can run its attractions through cold nights and high demand, heavy storms and dangerous conditions are another matter. If necessary, they will delay opening or outright close the compound for an evening. Please check the Field of Screams Maryland social platforms for any weather updates.

Furthermore, no refunds are available for visitors who are "too scared." Remember that fear is the whole point of these Halloween places to visit! They do not recommend the attractions for children under 13 years old (but leave the final decision to parents or guardians).
Finer Points
Next, we can dive into more detailed and specific queries. These include the following:
What's in the waiver: Since Field of Screams Maryland's attractions are dimly lit and designed to frighten guests, they carry some inherent risks. Trails, queue lines, and pathways can be uneven and slippery. Several special effects—including strobe lights, loud noises, flames, a vertigo tunnel, latex, claustrophobia tunnels, fog effects, and more—that could inadvertently cause harm are also used.

Therefore, visitors MUST sign a waiver before entering and participating in the Field of Screams Maryland's events. By entering any Field of Screams Maryland events or its compound, you confirm that you have completed and signed the waiver, are assuming the risks, and are waiving your rights.

Age and guest restrictions: Again, Field of Screams Maryland does not recommend its attractions for children under 13 years old, but staff will permit adolescents and pre-adolescents into the compound. Parents should consider how their children react to horror movies and other haunted attractions. These Halloween haunts are intense and often loud, featuring blood, body parts, gore, and multi-sensory scares. That said, children as young as 10 have walked the trail and loved every second, while some adults have found it too frightening to complete. Yet there are no special prices for children and no refunds for guests of any age who decide not to complete the attractions.

The only people prohibited from the compound are infants.

Additionally, Field of Screams Maryland advises that the following individuals avoid haunted Halloween attractions:
-Toddlers and young children: Once more, these attractions can be too intense and scary for young kids, potentially causing nightmares or distress.
-Individuals with heart conditions: The sudden shocks and scares in haunted attractions can trigger heart-related issues in people with pre-existing conditions.
-Individuals with anxiety disorders: People with severe anxiety may find the intense atmospheres and jump scares overwhelming.
-Pregnant women: Pregnant women should avoid haunted attractions due to the potential stress and fright involved.
-Individuals with epilepsy: Some attractions use strobe lights and flashing effects, which can trigger seizures in people with epilepsy.
-Individuals with sensory sensitivities: Loud noises, dark spaces, and sudden movements can overwhelm those with sensory sensitivities, such as autism.
-Individuals with claustrophobia: Enclosed spaces and tight corridors may trigger anxiety in individuals with claustrophobia.

Before visiting haunted Halloween attractions, individuals must assess their comfort levels and health conditions. Assuring your safety can increase your enjoyment of these events.
Accessibility and ADA compliance: The compound, parts of the Slaughter Factory, certain viewing areas on the trail, and the concessions area are accessible depending on your needs. Nevertheless, the team urges you to contact

[email protected]

and arrange your visit in advance. We are happy to make the effort in any way we can.
Military discount: Field of Screams Maryland proudly offers a discount to active and retired military members. Please email

[email protected]

for details about how to apply this discount to your purchase.
Wait times: Given the popularity of their attractions, wait times during Field of Screams Maryland's most popular hours are inevitable. Some visitors may take in the trail at a different pace than others. Some show up late. Those delays cause hold-ups later during the night. Again, employees work as hard as possible to keep things running smoothly.

Guests have a few options to avoid waiting. Since Friday and Saturday are the busiest nights, purchasing Thursday or Sunday tickets can circumvent the largest crowds. Similarly, choosing an early time slot on any night means you can enter the compound sooner than many other guests. Finally, showing up on time puts you ahead of the guests in the time slot after yours.

Joining the team: Interested in acting at Field of Screams Maryland's compound or helping set up their programming? Visit their website and check out the Jobs section to learn more and submit your information.
Parking: While the compound has on-site parking available, the staff recommends guests arrive early to secure a spot.
Taxi, Uber, and ride-sharing availability: Guests can use ride-sharing apps and vehicles for drop-off and pick-up.
Bag policy: Field of Screams Maryland discourages guests from bringing large bags or backpacks into the compound, as these belongings are a hassle to carry through an hour-long trail. Moreover, all bags are subject to security checks at the entrance.
Lost items: Any items left behind by guests or found on the compound go to the lost-and-found area. Guests can speak to staff about reclaiming lost items there.
Restroom availability: On-site restroom facilities are available for visitors near the entrance/exit.
Flashlights, photography, and other devices: Field of Screams Maryland prohibits flashlights, photography devices, and other electronics within its attractions. Bright lights may ruin the attraction experience for other patrons, while cameras can endanger actors and visitors.
Costumes: While guests may wear costumes within the compound, no full-face coverings are permitted.
Smoking, alcohol consumption, and outside food: Visitors may not smoke, drink alcohol, or bring outside food or beverages into the compound. Concession areas are set up near the Carnival Town Games to provide refreshments.
Pets and service animals: Field of Screams Maryland permits no pets within its compound but does allow service animals.
Halloween Attractions Maryland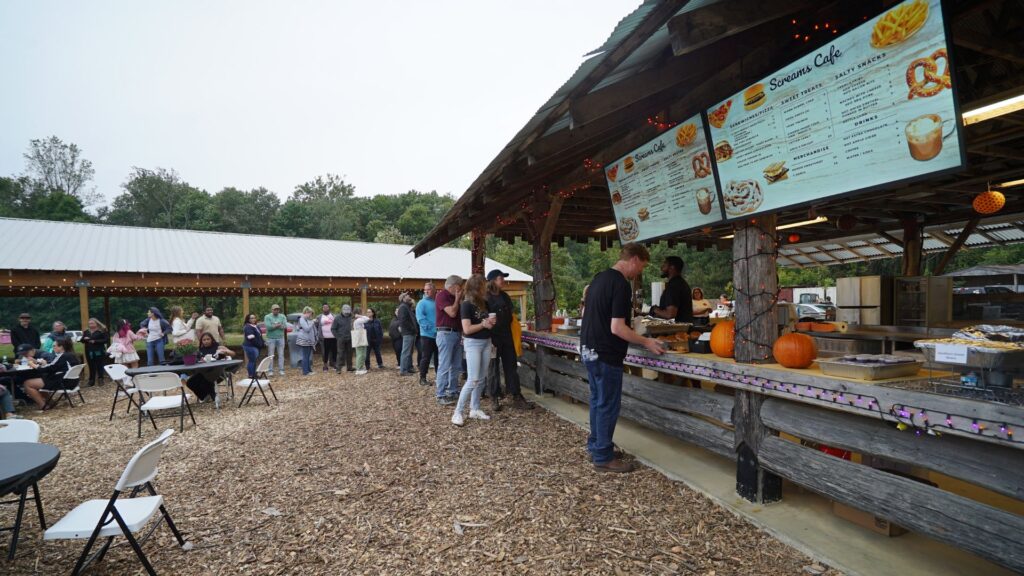 One of the best places to visit for Halloween, Field of Screams Maryland is the DMV's premier haunted attractions event. Put on by the same team behind Winter City Lights, this award-winning screamfest is among the best Halloween attractions in the country. Don't wait to get your ticket—call (888) 720-1112 or visit their website to reserve your spot for the haunted trail and prepare for the best nightmare!
The post Field of Screams Maryland Visitors' Most Frequent Questions appeared first on Field Of Screams Maryland.