Despite the recent report from Governor Youngkin with some promising Virginia jobs and employment data through 2022, other regional economic and business data continues to indicate areas of "softness" for your business to act on.
Per the Federal Reserve's 5th District Survey of Service Sector Activity (basically, what's happening to Virginia & mid-Atlantic area businesses via a recent survey), "activity improved slightly but remained soft in January". What does this mean to your NOVA business – more importantly, what should you/us do?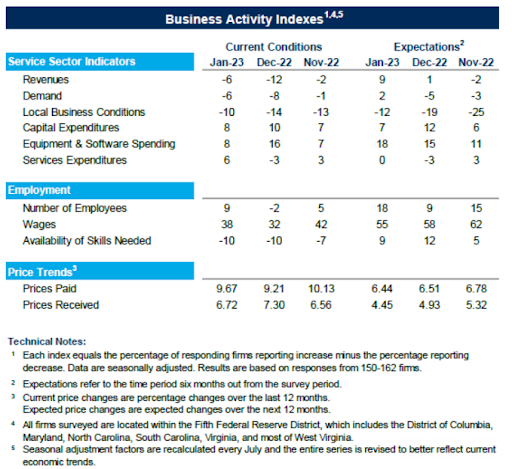 Here's our brief, thoroughly non-financial expert but seasoned local business owner and economic data enthusiast/citizen data scientist perspective – what's yours? As usual, these discussions are all about what we can do moving forward, vs. what's happened looking back (as most Federal reporting reports).
[1]
While there was persistent expectation – or maybe "hope" – that costs for things might improve, i.e. inflation easing, that's not yet really happening. So that's reflected in slightly depressed equipment and software spending, though somewhat status quo on capital spending. To Do: continue to practice tight spending control, but also continue, carefully, strategic planning and investment.
[2]
Hiring is slowing a bit, perhaps a result of a rather significant and not-quickly-improving population of available workers (i.e. "availability of skills needed"). Except perhaps for a very recent surge in laid-off high tech workers (from pandemic over-hiring), though their salary requirements are likely to be pretty aggressive. To Do: Focus hard now on retention, avoidance of churn with your employees, and promote this stability and soft benefits in recruiting. Indeed Virginia is one of the few "most impacted states due to worker shortage" in the nation, per the US Chamber of Commerce.
[3]
Demand and revenues are clearly below expectations, and not rebounding very quickly – or quick enough for many of us. Looking at the "Manufacturing" survey results (below) – it's a bit more concerning, with volume of orders and backlogs both quite negative, below all expectations. Wages aren't dropping yet here, either, as they are a bit in non-manufacturing. While immediate orders are probably more luck than planning right now, the time IS now (i.e. To Do) for creative investment in B2B touch, communications, engagement, marketing – to get those pipelines filled and backlogs percolating.

What "manufacturing" is there in Northern Virginia, one might ask? Well, it turns out, quite a bit – and not only physical build/fabrication (like Hawkeye 360 Satellites), but a lot of manufacturing-focused engineering and technology (as evidenced by the NOVA Community College's Engineering Technology programs ), along with gobs of high-tech software engineering firms and support for continuing data center builds in the area).
This is notwithstanding searches for employers by industry done via Virginiaworks.com – when used for "manufacturing" in the NOVA area, reveals all kinds of bakers…a type of "food manufacturing", it appears.