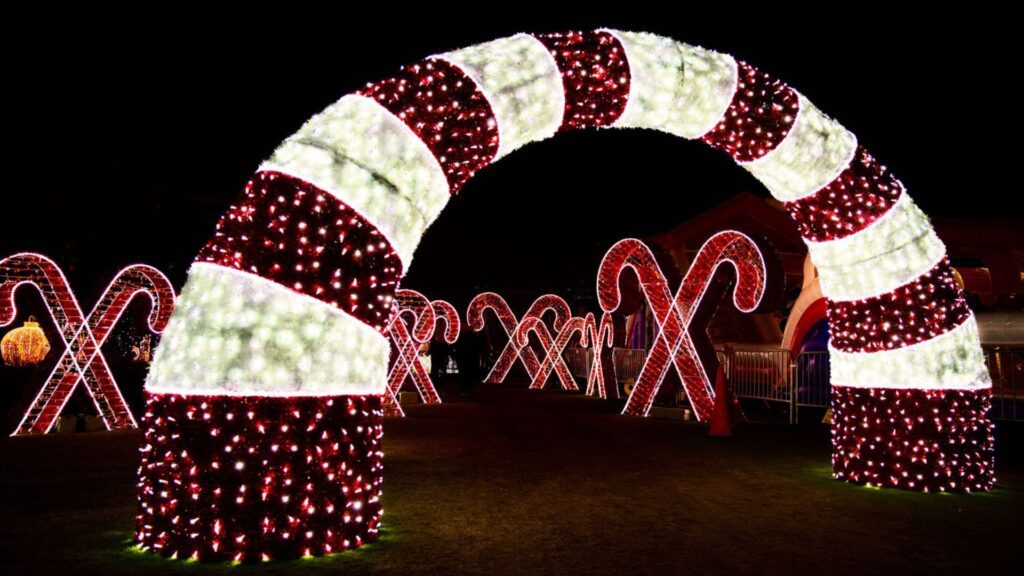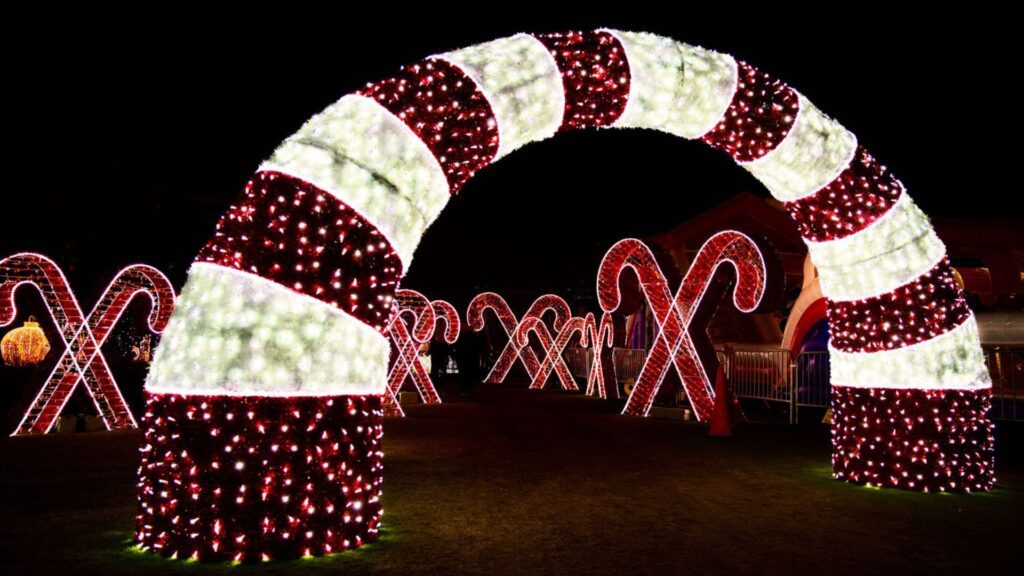 A crisp winter's night filled with twinkling lights and laughter. Crackling bonfires and sweet treats. A 52-foot-tall Christmas tree with enchanting patterns of glowing lights. All these attractions and more will be at Winter City Lights, one of the DMV's premier Christmas holiday light events! You and your loved ones can prepare for these wondrous sights and sounds by reviewing key policies and other visitors' most common questions.
From the same team that brought you Field of Screams Maryland, Winter City Lights is an award-winning holiday attraction now entering its second year! Dress warm, pack your camera, and look forward to the region's most astonishing outdoor Christmas decorations! Call (888) 720-1112 or visit their website for Winter City Lights ticket pricing and availability.
Basics Rules and Reminders
Ticketing: The Winter City Lights team sells dated and timed tickets online, which all visitors buy in advance. No tickets are sold on-site! Visitors must also sign an electronic waiver before entering the attraction compound. Winter City Lights offers free admission to children under 4 years old who come with a ticketed adult!

While the GA ticket provides access to all areas of the attraction, guests must purchase Axe-Throwing and the Penguin Plunge Snow Tube Ride access in addition to GA tickets. Children under 4 may ride the Penguin Plunge Snow Tube for free (check out details on the Winter City Lights Attractions page).

Attractions: Winter City Lights covers 18 acres with over 1 million Christmas lights and 200,000 square feet of displays and decorations. Specific attraction elements include:

A 1.5-mile-long mulched trail in a captivating forest of walk-through Christmas lights displays with holiday music. The hike includes several large-scale decorative pieces, structures, and stations along with hundreds of lighted trees.
A shorter Mini Christmas lights trail for guests who cannot manage the full 1.5-mile one or its hills. This "trail within a trail" is mulched like the standard one. Staff also offer a golf cart to assist visitors through some portions.
An enchanting 52-foot-high programmable Christmas tree that boasts a sophisticated light show alongside holiday music and a Winter City "snow" storm every half hour. The tree is surrounded by a 200-foot diameter canopy of twinkling Christmas lights, creating a massive umbrella of lights overhead.
A 5-acre area with bonfires, hay bales, tables, and chairs to enjoy the magical atmosphere. Nearby, their incredible concession stands sell pizza, barbecue sandwiches, burgers, fries, s'mores, funnel cakes, fried Twinkies and Oreos, the best hot chocolate you've ever tasted, and holiday drinks.

Weather policies: While Winter City Lights can run its attractions through cold nights and high demand, they err on the side of caution for heavy storms. If necessary, they will delay opening or outright close the compound for an evening. If the compound is closed during your time slot, you can pick another date for your attendance from the remaining options. They do not offer refunds, but guests can use tickets in future years.
Finer Points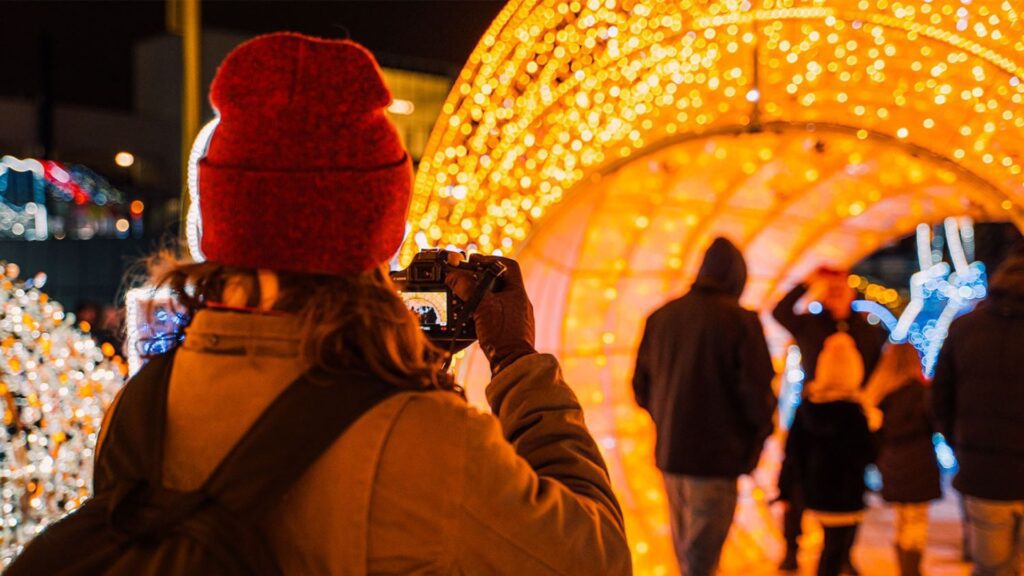 What's in the waiver: Winter City Lights' attractions are held on grass, dirt, and mulched surfaces. Also, staff use special FX—like strobe lights, fog, and special-effect snow—throughout the attractions. Therefore, they have visitors sign a waiver before entering to ensure guests know what to expect.
Age and guest restrictions: Winter City Lights is designed and brought to life for guests of all ages, and they admit everyone with a ticket into the compound. Yet toddlers and seniors may find the 1.5-mile trail through the woods challenging because it has a few steep hills and can be bumpy. Prioritize safety first!
Accessibility: An asphalt pathway runs from the parking area to the main compound, and the ground in the compound is covered in mulch. Wheelchaired guests can enjoy the bonfires and concessions, and those who can transfer to a golf cart or walk some distance can get on the "Mini" trail. Contact

[email protected]

and arrange your visit in advance!
Military discount: Winter City Lights proudly offers a discount to active and retired military members. Please email

[email protected]

for details about how to apply this discount to your purchase.
Wait times: Wait times during Winter City Lights' most popular hours are inevitable due to popularity. Friday and Saturday are the busiest nights, so purchasing Thursday or Sunday tickets can circumvent the largest crowds. Similarly, choosing an early time slot on any night means you can enter the compound sooner than many other guests.
Joining the team: Interested in acting at Winter City Lights' compound or helping set up their programming? Visit their website and check out the Jobs section to learn more.
Parking: While the compound has free on-site parking available, the staff recommends guests arrive early to secure a spot. Guests can use taxis, Ubers, and ride-sharing services for easy drop-off and pick-up.
Bag policy: Winter City Lights discourages guests from bringing large bags or backpacks into the compound, which are a hassle to carry all night. Bags are subject to security checks at the entrance.
Restrooms: Restroom facilities are available for visitors near the gate.
Flashlights and photography: Flashlights are prohibited (and unnecessary, as the compound is well-lit). However, guests may take as many pictures of the decorations as they like!
Costumes: All visitors should dress for winter weather. That said, children who want to wear costumes can do so.
Smoking, alcohol, and outside food: Visitors may not smoke, drink alcohol, or bring outside food or beverages into the compound. Concession areas are set up near the bonfires to provide refreshments.
Pets/service animals: Winter City Lights permits no pets but allows service animals.
The DMV's Most Enchanting Christmas Holiday Light Event!
No matter whether you plan to visit on the first or last day of the season, get your tickets to Winter City Lights now! Families and individuals throughout the DMV visit their compound for one of the region's leading Christmas holiday light events. Learn more about their exciting programming and reserve your spot by calling (888) 720-1112 or visiting their website today!
The post Winter City Lights Visitors' Most Frequent Questions appeared first on Winter City Lights.